RANDALL F. DRYER, M.D.
TOP RATED U.S. SPINE SURGEON
Surgeon Creates Tribute to First Responder Patients With Wall of Honor
Sep 9, 2016
Huge Collection of First Responder Patches Decorate Dr. Randall Dryer's Austin Office
AUSTIN, Texas — Central Texas Spine Institute announced today that spine surgeon Randall F. Dryer, M.D. is honoring first responders with a wall of honor in the practice's northwest Austin office. The wall display features a large collection of framed uniform patches given to Dr. Dryer as a token of appreciation following surgical procedures he performed. Dryer's growing collection of first responder patches now numbers in the hundreds, from public servants throughout Austin, Central Texas and as far as Europe.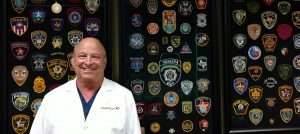 "These patches inspire and remind me of the hard-working, every day heroes that serve so many in our community." Dryer said. The wall is a focal point in the office at Central Texas Spine Institute at 6818 Austin Center Blvd. Suite #200. Dr. Dryer is an award-winning spine surgeon who was recently recognized by Becker's Spine as a top leader on the forefront of stem cells and biologics last year.
In addition to the wall of honor, Central Texas Spine Institute is sponsoring First Responder Appreciation Week September 11-18. The first annual event will be a membership drive for the 100 Club of Central Texas, the charity that provides first response for first responders throughout Central Texas. First Responder Appreciation Week seeks to raise awareness and donations for the charity. "I'm grateful for the work they do. It's an honor to do my part to take care of them so they can take care of others," said Dr. Dryer.